Intelligent multimedia solution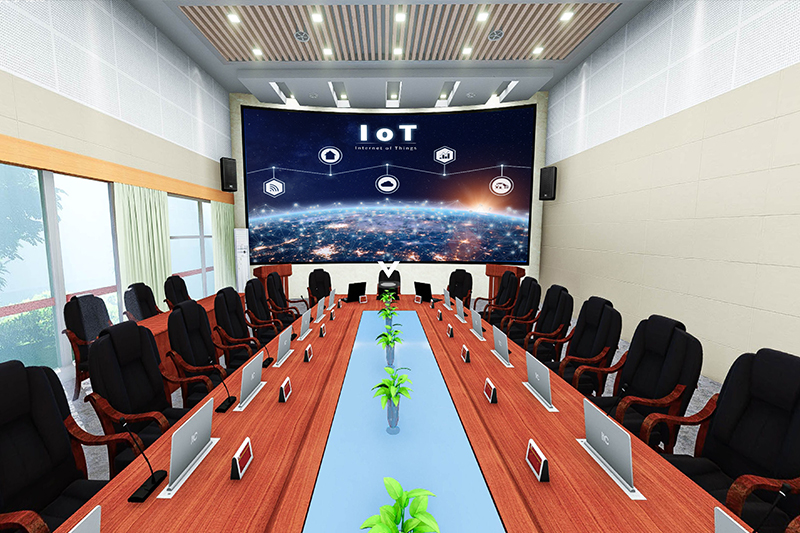 Project background
With the continuous deepening of the application of multimedia communication technology, the multimedia intelligent meeting room has been widely used, which can meet the meeting and various needs. In order to fully utilize its functions, it adopts advanced and modern electronic equipment and utilizes a variety of Scientific and technological means, to display the various formats of graphics, text, video and audio files required by the conference in all directions and multiple angles. This program aims to build a complete set of multifunctional conference system with functions of graphic and text, video display, multimedia access, conference speech, discussion and other functions.
Smart office
The multi-functional conference system includes video conference, centralized control system, multimedia peripheral equipment, sound (reinforcement) system, large-screen projection system, conference speech system and simultaneous interpretation system to realize the multimedia conference function of the conference room and meet the simple and smooth The meeting process, vivid and vivid auditory effects, clear and comfortable video display, intelligent camera tracking, complete meeting records, convenient and fast remote meetings and other requirements.

Function
Satisfy various forms of conference activities such as conferences of various levels, academic forums, and reports. Meet public events such as press conferences, celebration parties, and signing ceremonies.
Powerful training functions: technical training, teaching, product introduction; large-scale annual meetings, monthly meetings, and company regular meetings.
General performance function: It can perform general non-professional theatrical performances in the form of theatrical evenings, hold various dinners, cocktail parties and dances and other audio and video signal mixing and switching, and send the processing results back to the terminal participating in the conference.